Resources included are all available for downloading:
(i) The Challenging behaviour Scale - CBS (Moniz-Cook et al 2001) https://pubmed.ncbi.nlm.nih.gov/
(ii) A Toolkit for care home liaison teams - Assessment and delivering interventions in care homes from: https://www.ncbi.nlm.nih.gov/books/NBK447072/
(iii) Bite size Video clips for home / care home liaison teams to use for training staff and family carers. from Module 3 Coping with Behaviour e-learning page
(iv) Bite size animations for training staff families and the public - including for COVID-19 produced by CNTW NHS Trust (Ian Andrew James - the author).
The Challenging Behaviour Scale (CBS)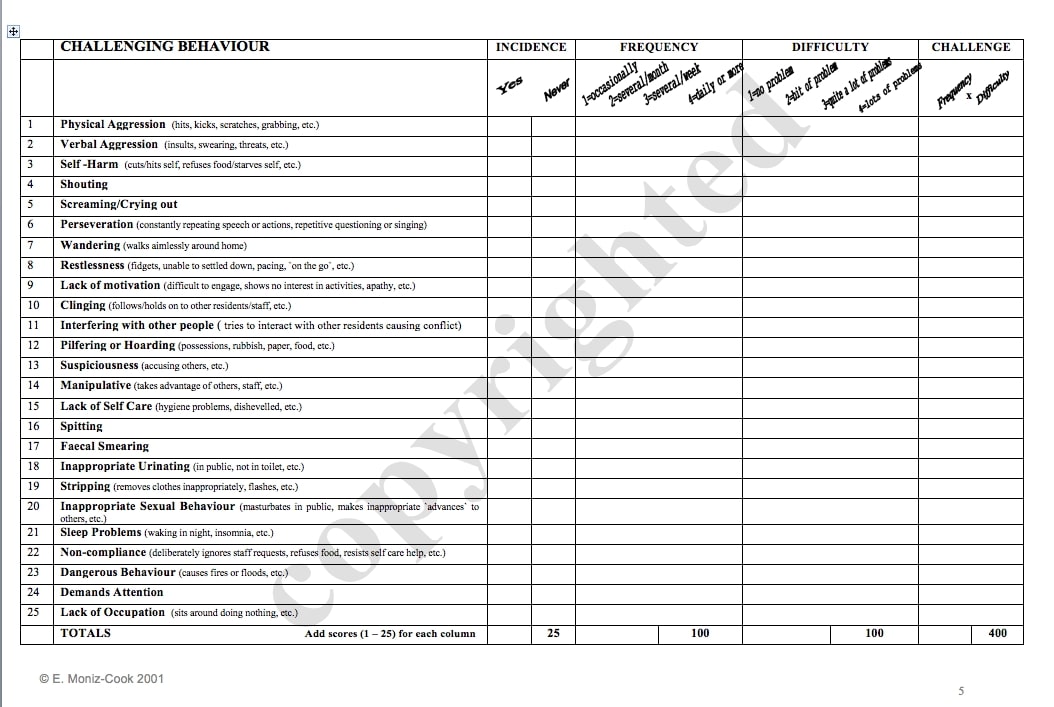 The CBS was first conceived, as the Problem Behaviour Inventory for evaluation of a staff training intervention (Moniz-Cook et al 1998). Development involved staff report of their everyday experiences of behavioural care-challenges. During extensive reliability and validity studies and further consultations with hands-on-care staff from hospitals and residential/nursing care homes, it was re-labelled The Challenging Behaviour Scale - CBS (Moniz-Cook et al 2001). Two decades since its development, the authors accept that language descriptors have altered. The CBS is a valid instrument when completed by or with staff who work in care/nursing home settings, or hospital units using the guidance we provide. The CBS is NOT a valid instrument for use in family care settings or for services for people with Intellectual Disabilities.
These real-life videos have been extracted from our interactive E-learning course Module 3, where actors were used to demonstrate case studies Coping with Behaviour e-learning page which trains staff an practitioners to detect the causes of common behavioural care-challenges and develop health and psychosocial action plans to resolve these. Here we make these videos taken from nine case studies available for specialist practitioners to use in facilitated training of care home staff in the delivery of person centred care for their behavioural care-challenges. With thanks to Professors Graham Stokes, Bob Woods and Esme Moniz-Cook for cases that appear in Module 3.

We would also refer users to Module 2 of our e-learning, where practitioners who register to use the free access course can use video material to train carers to detect emotional communication before proceeding to work out how to resolve the behavioural care-challenge in situ. Coping with Behaviour e-learning page
Tool Kit For Care Home Liaison Teams
This Tool-kit has been drawn from the NIHR Challenge Demcare research process evaluation on implementing staff training and specialist practitioner-led interventions in care homes. Click here for the tool-kit